Droneserver
Apr 17
Project Roadmap is Up!
Sincere apologies all around for our silence for the past weeks. We've been hard at work behind the scenes in the Droneserver labs scheming and doing do-dilligence … doings.
We are super humbled by our semi-finalist status in the Knight News Challenge and we thought it was time to involve the community in our preliminary project roadmap that can be found at our super-duper wiki.  Feel free to come take a look and add comments to the talk page.
Stay tuned for further project updates and please feel free to send us comments!
Mar 22
Knight News Challenge: DIY drone fleets for airborne web journalism -
1. What do you propose to do?

We'll make it easy to deploy cheap, networked drone fleets to help newsrooms create novel web-based experiences—like live events coverage.

2. Is anyone else doing something like this now, and how is your project different?

Many are working with DIYDrones:…
(Source: newschallenge1)
Introducing the Droneserver Project: Networked Fleets for Airborne Web Journalism
Civilian drones are swarming with interest. The DIYDrones community (tens of thousands strong) has generated open hardware plans, on-board controllers using low-cost chipsets, autopilot software, creative uses of computer vision, and more.

Others are focusing on specific applications. Matt Waite at University of Nebraska-Lincoln has started a Drone Journalism Lab to hone in on the journalistic applications of drones.

You may have seen drones used for investigative journalism, to document protests, and to capture real estate images.

But for a generation that grew up on the web, something seems strikingly absent from many drone tech discussions: the web!

We're a group of hackers and tech ninjas who are proposing a project to create a web-based, multi-drone command server.
We believe there is enormous untapped potential in the combination of ubiquitous network access and cheap drone hardware.

Droneserver

We want to ignite a culture of shared experimentation around drones and the web, enabling developers to create a whole new class of web apps. To do this, we're roadmapping "Oreo," an open source drone command server, and "Aero," an on-board control system.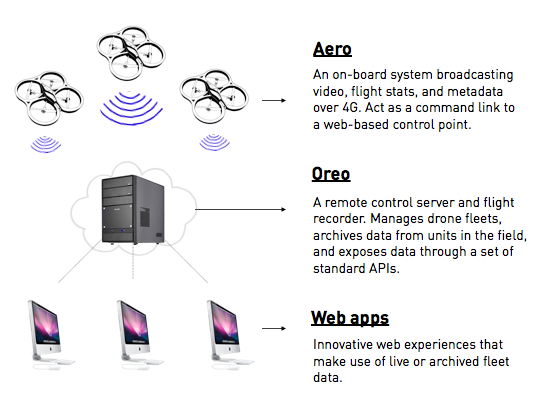 Because Oreo will run as a service on a regular web server, it will provide a direct bridge between drones and the web.
There are major advantages to this approach. For one, all the parts of this system can register and connect with each other over the commodity internet—no special networking required. Fleet management can be consolidated with a single operator. And since the fleet is transmitting live to a web server, it becomes possible to build real-time web apps that rely on drones in the field.
(Of course, this approach introduces some ferocious engineering challenges, which we'll detail in a subsequent post).
Enabling innovative forms of news coverage
Using this system, we intend to help newsrooms and others deploy cheap, networked drone fleets and create new web-based experiences.
With this kind of infrastructure, developers would be empowered to create amazing interactive event coverage. A Greek austerity riot or a sporting event could be captured and broadcast from the sky by a networked fleet and played back after-the-fact in a million different ways. Alternately, a news producer might capture 360° perspective on an event and reconstruct the scene in user-pannable WebGL (àla ConditionONE).
We also want to explore how to embed drones in quotidian weblife—imagine joining a Google+ Hangout with a multi-drone feed!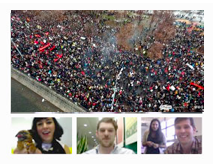 We see networked drone fleets paving the way for deep, interactive reporting and storytelling—the stuff of science fiction, made real. And while this is an ambitious project, open source and maker culture are bringing these types of types of applications into tantalizing reach.

To imagine what's possible, have a look at the Perspext demo. Perspext is a web-based video coordinate system by friends of the project—it captures time-aligned pitch, yaw, direction, and GPS data for each second of a video, and makes that data re-playable in the browser. A first experiment for the drone server might use Perspext and Popcorn.js to document a news event, exploring different perspectives on the same moment in time.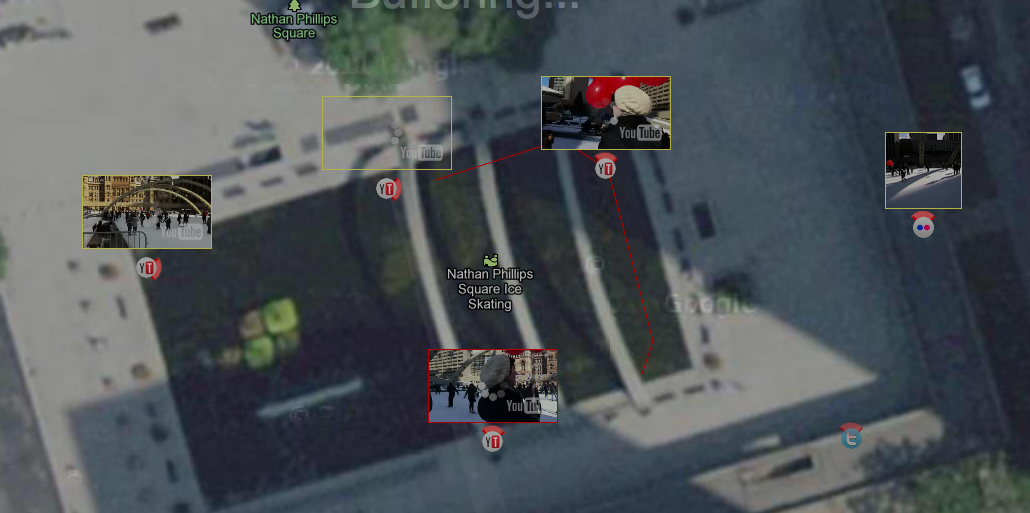 In summary

We have two specific aims:


to create a web-based command system for networked drone fleets;
to help news organizations and others create novel web experiences with this system.
All of our work will be open source, and we'll operate as a community project.
In the coming days, we'll dive into some use cases, and talk about some of the early engineering considerations. Follow this Tumblr and stay tuned for details on how to join the effort!